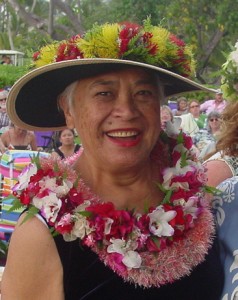 I am known as Aunty Maile, although my driver's license says Maile Spencer Napoleon. I was born in North Kohala. After graduating from Kohala High School, I attended Kapiolani Technical School, with a scholarship. After LPN Nursing School, I went to Hotel and Restaurant Training School. But, my desire was to be a teacher.
On Oahu, I taught grades K-6 for about eight years with the Hawaii Studies Kupuna Program.

Now, back on the Big Island in Kamuela, I am a:
Healer
Kahu (minister)
Kumu Lei Haku
Lomilomi Practitioner
Preserver of Hawaiian history
If you would like to have a Hawaiian Wedding, you can learn more here.
I am an educator in Lei making, Lomi, Huna, Stonework (Ku'i Pohaku), Lauhala weaving Pu'ili Pu'ohe, Pranic healing, La'au Lapa'au, and Hawaiian Philosophy.
What I do for fun: gather flora and fauna in the forest, garden—flowers make me happy, dance hula, make lei, visit with friends and family, and laugh.
Aloha nui loa and . . . Merry Christmas,
Aunty Maile